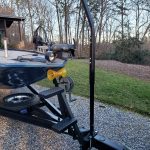 Tom
After placing order with you on Friday, I received the steps Tuesday afternoon. Wow, fast shipping. Also the packaging job was excellent. They arrived in perfect condition. Very good manufacturing quality on the steps as well.
I easily got them mounted yesterday after receiving. This will be so much better compared to previous method of exiting the boat after trailering it. I am satisfied with your product.
I have attached a few pics to let you know how well they mounted up.
Thanks again for your outstanding customer service.